The Pour Over is a 3x-a-week newsletter that shares the news with a religious take for Christians.
While the newsletter might not be for everyone, their growth story is exceptional.
The founder, Jason Woodruff, started it in May 2018, sending the first email to only 10 subscribers.
Today, the newsletter goes out to over 500k people.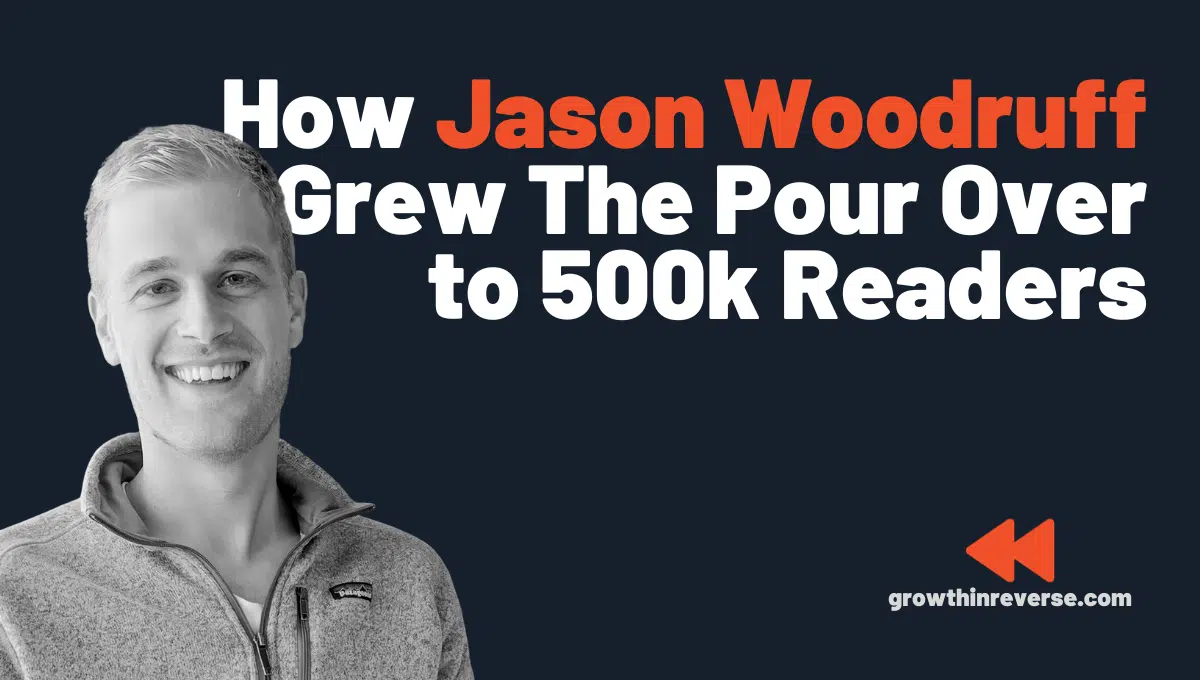 Not only is that quick growth, but it's also more sustainable than others we've looked at, which can be motivating for us regular people to see 🙂
The Growth Timeline
So how did he grow this newsletter from tens of people to hundreds of thousands in just a few years?
The beauty of this growth timeline is that Jason wasn't really trying to grow it until 2020.
You can see that once he started focusing on growth, there was a big uptick in the growth chart.
It was like something clicked and he realized that this could become a full-time thing.
He started focusing on growth and in 2021, he left his day job to focus on the Pour Over full-time.
The Growth Levers of The Pour Over
There are a number of growth levers Jason and his team have used to grow the newsletter. Here are some of the more impactful ones.
1. Referral program. Referrals can be some of the highest quality readers for any newsletter, but it's not something easy to scale. The Pour Over has found a way to reliably amp up that growth.
2. Paid recommendations. Paying for referrals has helped the newsletter grow a lot, but they do something really smart to get people interested in sharing.
3. Paid ads. Jason tried to grow the newsletter organically for a few years, but realized that he could put fuel to the fire and grow it much faster with some ad spend.
4. Lean into your niche. The Pour Over threads Christianity through every aspect of their newsletter, and it's building a ton of brand loyalty for them.
5. A few bonuses. These aren't specific growth levers, but more brand builders and other ways they've been able to build a loyal fanbase.
1. Referral Program
Since the beginning, Jason has tried to emulate The Morning Brew's super-successful referral program. But for a long time, he wasn't quite sure how to get that up and running without spending a ton of money on software.
Then, he found SparkLoop.
Once he added a referral program with SparkLoop, he knew he hit on something great.
In an interview, he told SparkLoop that every month thousands of people are joining their email newsletter from referrals.
And they are the highest quality subscribers The Pour Over has.
Unfortunately, as high of a quality as those subscribers are, a referral program isn't a "silver bullet" type of strategy. You can't reliably scale them like you can with paid ads.
But they have found ways to help amplify the referrals.
Giveaways for Referrals
Because it's not super scalable on its own, the team at The Pour Over does giveaways to help amplify and push the referral program.
Sometimes these are on their Instagram, but they are often within the newsletter.
They recently ran a giveaway on Instagram for Chick-Fil-A gift cards (again, they are threading the niche through every aspect of their content).
This post got thousands of comments and a lot of people tagged 5-10 friends, not just 3. By doing this, they are breaking the monotony of a typical "refer friends and get a sticker" type of offer.
Every person got a $5 gift card, there wasn't just one winner. This added excitement and a sense of urgency to get a gift card before they were all gone.
They've also run giveaways around Christmas where they gave away different "bundles" of gifts each day:
Jason said that these giveaways really help them increase the number of referrals they bring in. And since they are their highest quality subscriber, he will happily pay to do these types of giveaways.
2. Paid Recommendations
Using SparkLoop or Beehiiv Boosts, you can offer a commission for other creators to share your newsletter.
When someone shares your newsletter with their audience, they get paid when people sign up with their unique link.
Not much extra effort on your part, and you only pay when they send you a customer.
The Pour Over is offering a commission of $2 per qualified referral (USA, they must click a link in the first two emails, etc.). While it's not a huge amount of money, if you have a decent-sized audience it could turn into a good amount of extra money for you.
Partner Resources
And to make this program more effective, The Pour Over does something extra to help their partners out. They give you wording and phrases you can use to promote the newsletter to their audience.
With SparkLoop, you can share a link to a "partner resources", which is essentially a page that includes text, images, and more assets to help people promote your stuff.
The page they created for their partners has talking points people can copy and paste or use as a starting point.
Having something like this makes it so much easier for people to share your newsletter.
After all, you're the ones thinking about your own content all day every day, so you probably have a ton of copy angles that have worked in the past.
Why not share them?
This is a pretty big missed opportunity for a lot of newsletters doing paid referrals.
I've only seen a handful of others do this – shoutout to Neal and the DemandCurve team who have a robust resources page as well!
3. Paid Social Ads
Jason and the Pour Over team started running Facebook ads in early 2020, and while it was working "okay", Jason admittedly said the ads were pretty bad.
In the middle of 2020, a reader who knew more about ads reached out and offered to help them. This guy was able to come in and help them cut costs dramatically.
At one point he was bringing in new subscribers for around 25 cents, and Jason started dumping money into the ads because he knew he could easily break even on that pretty quickly.
Facebook & Instagram
Jason says that 75% of their paid budget still goes into Meta ads, like Facebook and Instagram.
So I had to go searching for examples to share with you.
Their growth has exploded lately, bringing on around 30k subscribers per month, which I'd imagine a good percentage of comes from this advertising.
Between April and July 2023, they went from 340k subscribers to 400k, growth of around 20k per month.
Between July and October, they've gone from 400k to 500k, growth of around 33k per month.
With growth like that, they'd be on track to hit 1,000,000 subscribers in the next 15 months. And that's if they didn't start growing faster, which can happen as you hit your stride.
Jason mentioned that they do test out ads on other platforms like TikTok, but haven't been able to figure them out quite yet.
Here are some of the more recent Facebook and Instagram ads they've run lately:
It looks like they're using the same copy for each ad, and testing multiple images. here are a few more:
I always love to see this. They're rapidly testing out lots of different creatives to see what's working and what's not. There were about 20 other ads just like these but with different images.
While I can't see exactly what they're spending on ads, I'd guess it's around $10-$15k per month at this point.
4. Lean Into Your Niche
Jason started the newsletter because he has always loved the news but wanted a way to strengthen his faith and connect with others doing the same.
The team at The Pour Over is unapologetically Christian. Instead of a typical media that usually lean one way or another in terms of how they approach the news, The Pour Over just tries to present the facts.
If a typical media outlet were to do this, they probably would lose readers because the facts can be quite boring when you're not adding clickbait headlines.
The Pour Over has readers from both sides of the aisle, and the way they come together is through the Bible verses and Christian perspectives they present around the news stories.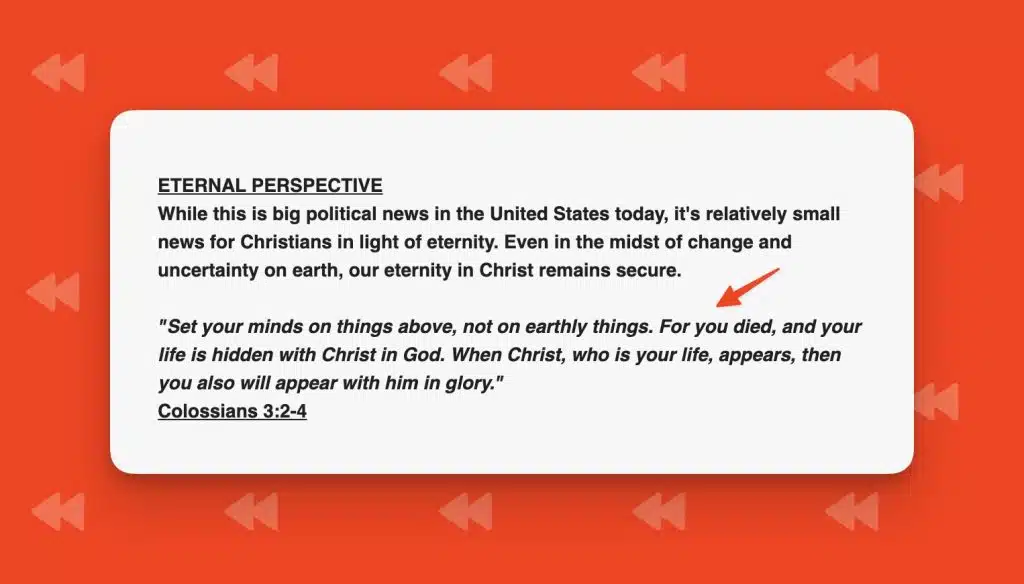 This isn't just another news source – they lean hard into their niche, and it's why their readers love them.
As we saw in their giveaways above, they're also consistent with their niche and make the prizes things Christians tend to love (Chick-Fil-A, Christian books, etc.).
They aren't just giving away
Build Additional Resources
Because they're leaning hard into the niche, they know that there are a lot of parents looking for a kid-friendly news source.
Enter: The Decaf – a version of the Pour Over specifically created for families with children to learn together.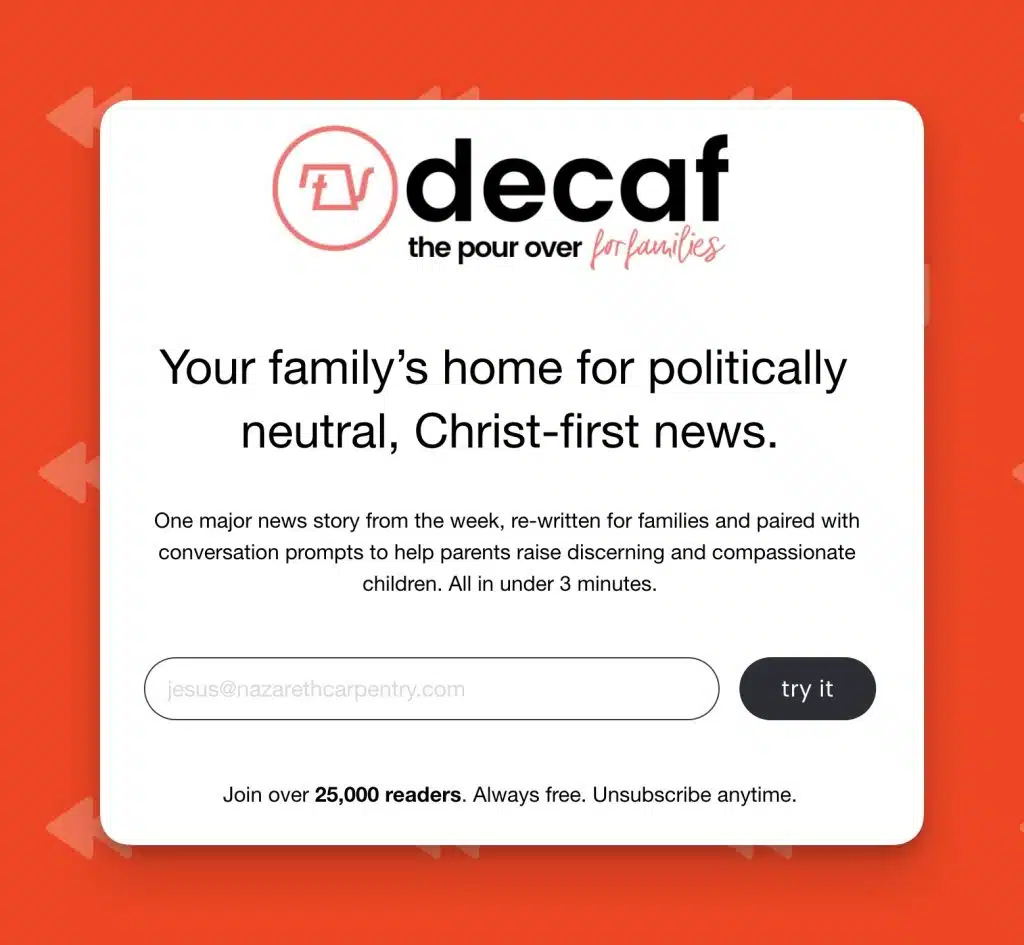 As far as I know, there is nothing quite like this out there to help parents teach their kids how to thoughtfully consume the news.
Getting the whole family involved is a brilliant way to build loyalty within the brand.
This second newsletter launched earlier this year and already has over 25k email subscribers.
5. Other Tactics
I found a few other things they're doing to build brand loyalty and monetize the newsletter that I wanted to share with you.
A. Helpful Welcome Email
The Pour Over does something with their welcome email that I really enjoy.
They only send emails on Mondays, Wednesdays, and Fridays. So if you sign up for their newsletter on a Saturday, by the time Monday rolls around you might have forgotten what it was that you signed up for.
Secondly, this isn't a typical "news" letter. While they do include a lot of news stories, they're also sharing Christian-based insights as well.
That's why I think this is such a clever use of a welcome email.
Instead of a typical welcome email, they send you a full example issue of the newsletter. This helps you get a sense of what's included and what each section is there for.
Within that example issue, they walk through the sections to help orient you for the next time you receive their newsletter.
At the top of the email they let you know that you'll see sections like that with a sentence or two explaining what it is and why it's there.
Because they've named some of their sections with witty titles, it makes sense to help the reader better understand what it is and how it's helpful.
They're also making it clear that this is an example from a past issue of the newsletter.
This "In Other Brews" section is like a quick links section where they link to other important stories with a really brief summary.
In the welcome email, they're using this section to explain how people can use The Pour Over and how they don't want you to think that they are priests or have any profound takes on the subject matter.
Jason mentioned this quite a few times in the podcast interviews I listened to so I'd venture to guess this is a point of confusion for a lot of readers.
They want to make it clear that their newsletter is not a theologian's take on the news, nor do they have any profound wisdom.
They are Christians who tell you the news. Not Christian reporters with first-party information.
I really enjoyed this welcome email, as it gives people a quick taste of what they'll be getting and can help rule out any confusion.
High 50%+ Open Rates
There is also a pretty clever way they're getting people to interact with the email. I would imagine that this one thing is helping them improve their engagement rates and keep open rates high.
They include a section titled "Know the Conspiracy." People love conspiracies.
Whether you like the actual conspiracy, or poking fun at people who fall into the trap all the time – it's definitely an attention grabber.
So they jokingly say that they think there is a conspiracy against "emails written by Christian millennials" where they send the emails to spam.
It's funny, catches your attention, and stands out enough that you might actually do something about it.
And then they include a link to a GIF of a talented bird. They got me to click! Why wouldn't I want to see a talented bird?
B. Unsubscribe Offer
When you unsubscribe from their newsletter, you get sent to this page:
You have two options:
Resubscribe to the newsletter
Subscribe to the 1440 newsletter
I get it. Some people might be interested in more frequent news updates than The Pour Over offers.
But if you're unsubscribing, this might rub you the wrong way with them including an affiliate link to get you to subscribe to something else.
This strategy is a little different and one I haven't seen used much. I'm not sure if I like it, but I wanted to include it here for you.
How The Pour Over Makes Money
In a recent podcast interview, Jason said The Pour Over brings in over $100k per month, making it a business worth over $1 million.
Here are some of the ways their newsletter makes money.
Sponsorships
The Pour Over is a "typical" news email in terms of making most of its revenue from sponsorships.
While I'm not sure what they charge per sponsorship placement, I used a newsletter ad calculator to get an idea.
With 500k subscribers and a 55% open rate, the estimate comes out to somewhere around $6,875 per placement.
Again, I don't have insider info so these are all hypothetical.
But if you think that probably 85% of their revenue comes from sponsors, that's around $7k per placement, so this is pretty close.
Donations
While the content from The Pour Over is free, they do have a donation option where you can support the content.
We saw this recently with the newsletter from Heather Cox Richardson as well.
However, the cool thing about the donation side of the newsletter is that you can get some pretty cool swag for "donating" some money.
The offer gets changed up pretty regularly, probably so they can test out offers.
They do something really smart with this free swag offer too.
When you click to see what the Crewneck looks like, you get taken to the product page for the item if you want to purchase it separately.
In this case, the price of the crewneck is $39.99.
So, you're paying $49 for the year, but it feels like you're only paying $10 because you're getting a free $40 sweatshirt.
Plus, this sweatshirt is free branding for them if you were to wear it out in public.
I love it – really good pricing and strategy here.
They might have some affiliate deals or other revenue sources, but these were the two main ones I could find.
How You Can Replicate Some of The Pour Over's Success
Most of us aren't going to get to 500k subscribers, and many of us don't want that many readers.
But there are some ways you can replicate some of their success in growing the newsletter.
A. Reduce the Friction
Any newsletter operator would love to have someone share our content.
But there might be someone out there who wants to share your stuff, but they couldn't find a good link to share, or a blurb about your content that they can send to a friend.
There is friction in this system. How can you get rid of that friction?
Add a share button
Include a blurb about your newsletter at the bottom of your articles
Make it easy for people to find images of you and your brand's logo
You probably already have some great copy you used when trying out cross-promotions or testing different calls to action on your landing page.
Think about how you can make it easy for people to share your newsletter.
While this example was in reference to their referral program, don't wave this off if you aren't using a referral program just yet.
You can add photos and text to your "About page" on your website. Or create a media page that includes a way people can talk about your newsletter.
Making it easier for people to talk about you and your content.
B. Don't Be Afraid to Pay for Subscribers
For some reason, a lot of people look at paying for readers as a bad thing. But a lot of successful businesses pay to reach more customers, so I'm not sure why that is.
If people are sharing your content and you know you've hit on something with your newsletter, don't be afraid to put some dollars behind it.
Of course, this assumes you're making money from the newsletter and/or will be soon.
But if you're just getting started, I'd wait until you've reached "Content/Audience Fit" before putting money behind it.
If you can't get people excited about your content without running ads, paying for ads isn't going to change that.