In April 2022, Alex Xu and Sahn Lam hit publish on the first edition of the ByteByteGo newsletter.
Since then they've been able to pull in over 334,000 subscribers.
It's April of 2023, so they grew that fast in just 12 months.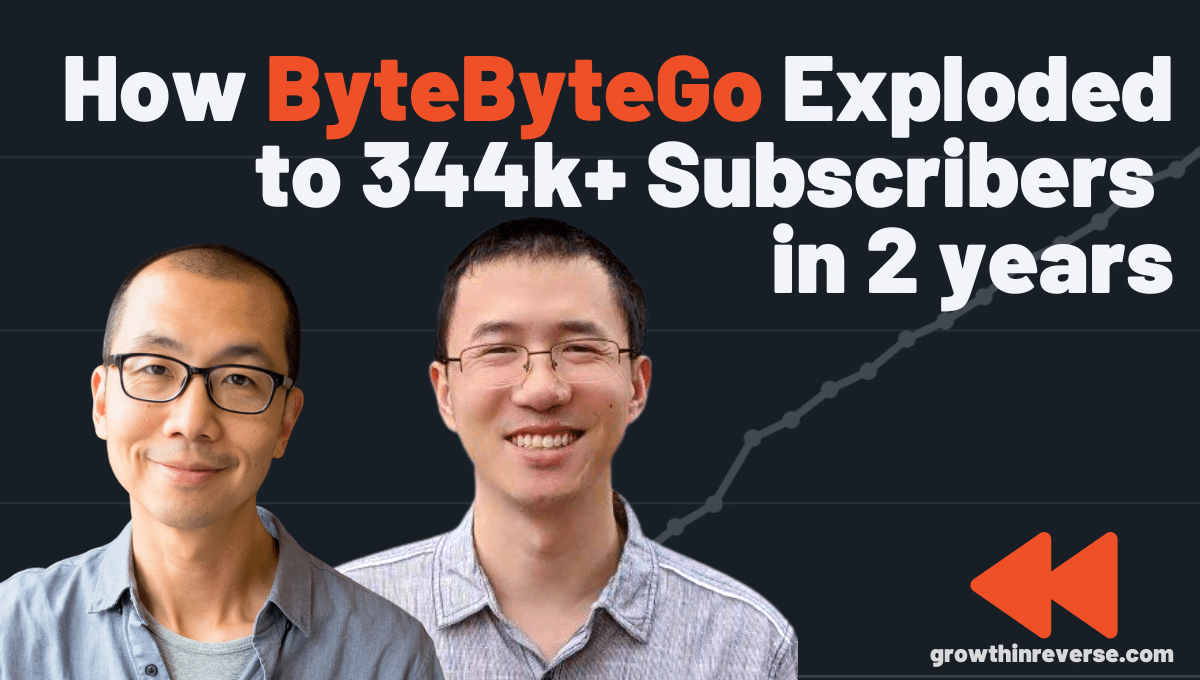 How ByteByteGo Makes Money
Alex and Sahn make money in a few different ways, and their business is growing at an almost insane pace.
It's worth mentioning, if you're not looking very hard, you might think Alex is the only one running this. But he does have a partner helping out with this.
Sahn is the guy behind most of the YouTube videos, and Alex seems to run the newsletter and social side of things.
Books About System Design
In 2017, Alex Xu put together his notes on how to successfully complete a system design interview and published them as a book.
He didn't think anything of it. But around 2 years later, he realized that people were starting to buy it and loved the content. But it was too short of a book, so he decided to expand on it.
He published that in June of 2020 and it's been selling like wildfire since.
The 2nd book Alex and Sahn wrote together and published in 2022. There is a 3rd that just came out in early 2023 combining machine learning and system design.
Of course, I did some digging for you and found a calculator to estimate book sales based on Amazon Best Seller rankings.
With those 2 System Design Interview books alone, the guys are probably bringing in around $40k in book sales every month.
After costs and such, they probably take home around 60% of that.
So let's call it around $25k per month in book sales alone.
Memberships
The guys started getting a lot of feedback that the books were great, but they weren't as interactive and up-to-date.
To go along with the books they created a membership site of sorts. You get access to all of the content that lives within the books but in a much more interactive way.
Since books can't really be revised after they've been published, this method allows them to add new content and examples as they have them.
It's only $59.99 for the year as well, so it's very affordable.
This gets promoted within the books and considering they make around 1,500 book sales per month. If a percentage of those people come over and buy, that's quite a bit of passive income at this point.
I really don't know how many people are signing up for this, but I have to imagine it's bringing in quite a bit because they keep it well-updated.
Job Board
This seems to be a really big trend for technology and business newsletters. If you recall, Packy and Lenny also have job boards to go along with their content.
It's a rough market right now, so I don't want to make any guesses as to what their revenue from this job board is.
As of now, they have 5 job listings with 4 companies and 584 candidates in the collective.
Based on the job listings, that should be around $2,250 for the month.
Paid Newsletter
While I couldn't find a ton of information on the inner workings of the business, I did some back-of-the-napkin math here.
ByteByteGo launched the paid newsletter in February of 2023, so this is quite recent.
There are a few subscription options for people to choose from. And there is also a founding member option where you can pay a little extra to support their work.
Since this newsletter is similar to Lenny's Newsletter in how niche-specific it is, I'm going to use some of the same numbers we saw over there.
If we use around a 4% conversion rate from paid to free, that means that the ByteByteGo team probably has around 13,360 paid subscribers.
At $150 a year on average, that would be around $2 million in subscriptions alone.
Of course, they just launched so probably haven't seen that all come in quite yet. But I'd imagine after a few more months they'll start seeing that come to fruition.
It's amazing what you can do when you have built up an audience of raving fans who are ready to devour all of your work.
Sponsorships
The ByteByteGo newsletter also brings in money from sponsorships within the newsletter.
I used this newsletter ad calculator to come up with a ballpark estimate of what they are likely charging per issue. I used really conservative numbers, so these are likely a little low.
It looks like with their really niche-focused audience, they are able to charge anywhere from $6,200 to $8,200 per sponsor slot.
With 52 weekly emails going out, they could have quite a bit of money coming in.
But there's a caveat here. I can't tell if getting sponsors is a weakness and/or they're just not actively focused on it. But I only found 12 issues since October 2022 that were sponsored. That would be about 2 per month vs 4.
That's still nothing to sneeze at with the amount they could be charging.
YouTube Adsense Revenue
Lastly, the guys have grown an incredible YouTube channel in less than a year.
They have over 362k subscribers on YouTube from just 41 videos.
Using Social Blade's YouTube calculator, here are the projected earnings for their channel:
Not too shabby for an extra income source.
All in all, I'd go out on a limb and say this is a $2.5 million business, without taking into account the $60 annual memberships they sell on their website (because I have zero data about those sales).
The Growth Timeline
Let's get to their awesome growth story, shall we?
While they started the newsletter in April of 2022, Alex began writing on LinkedIn in 2021, so I'm going to start the timeline there.
It's still an incredible ride to go from nothing to a massive brand in less than 2 years.
In fact, this might be the fastest growth story we've covered in these deep dives.
Here's a quick breakdown of these channels:
Alex started writing on LinkedIn & Twitter in November of 2021. He now has over 600k followers across both channels.
The newsletter launched in April 2022. Now they have 344k subscribers.
YouTube launched in June 2022. The channel has over 350k subscribers.
Over a million followers across platforms, and the growth is only increasing.
The Growth Levers of ByteByteGo
ByteByteGo has an interesting combination of growth levers they've been able to use.
1. Start With Multiple Channels. This goes against almost everything I've seen other creators do in the beginning. But you have to see these results.
2. Own the niche (& search results page). Wait until you see how well these two have covered this niche – they practically own it.
3. An Epic Lead Magnet. Epic might be a strong word, but this thing is a beast. And they are consistently putting it everywhere.
4. Seeding Your Launches. The guys at ByteByteGo were really intentional with how they launched more channels and products.
5. Giveaways, anyone? This strategy was so simple I actually overlooked it until the 11th hour of writing this post.
Okay, let's jump in and walk through each of these.
1. Testing Multiple Channels
I know, I've said before that a lot of the bigger creators have mastered one platform before moving on to the next.
But Alex Xu did not do that.
Since the beginning of sharing his thoughts on social media, Alex has consistently just reposted what he shares on LinkedIn to Twitter and vice versa.
They are the exact same content, with minor tweaks.
Here is one of his first posts:
On Twitter, he shares the exact same words but broken up to be more of a thread since it was too long for a single tweet.
I'm sure Alex is super grateful he was posting on both platforms because LinkedIn was clearly the winner here.
Look at the growth timeline if we just compare those two channels.
And if he had only stuck with Twitter, he would have been missing almost 50% of their current social traffic. And probably around a similar amount of email subscribers.
It doesn't seem like it took him much more effort to post on both places. But they almost definitely would not have had the growth trajectory they've had if he didn't try out LinkedIn.
Of course, SimilarWeb doesn't have insider data, so it's not perfect, but here is a breakdown of some of their other top traffic sources:
And then they started a YouTube channel to hit people from that angle as well.
2. Own The Niche (& Search Results Page)
This strategy got me really excited because these guys are really doing a bang-up job.
If you don't fully understand SEO, stick with me here, this should make sense.
The keyword "system design interview" gets around 14,500 searches per month according to SEMRush.
It's not a massive keyword, but that's a decent amount of traffic.
With SEO and search, you never rank for just one keyword. There might be variations of it like "how to pass a system design interview" or even a misspelled "what is a system design interview".
It's much more complex than that, but the overall topic seems to have a good amount of searches every month.
Now let's see what the results page looks like when you type that phrase into Google:
All of these highlighted boxes is content that the ByteByteGo team has created.
They are dominating this page. And it's not because multiple pages on their site are ranking, but they are hitting people from all angles.
Like reading books? We wrote the book on System Design Interviews.
Like watching videos? We have a full step-by-step video guide about system design interviews.
Want an article? Great, we have that too.
You might look at a competitive search tool and see their website is ranking #8 for this keyword and think they could do a lot better. But in reality, they've created assets to make sure they are showing up everywhere in their niche.
The one thing they could do to really ramp this up would be to run paid search ads.
Some of the searches for these keywords start out with 3 paid ads. So many of those other results get pushed down the page.
I think a paid ad to their bytebytego.com site would really put them over the edge. But it can be tough to get the numbers to make sense when your product only costs $59.99.
So who knows, they might have tested this in the past and found it didn't work.
Okay, moving on.
3. An Epic Lead Magnet
Lead magnets are not something you commonly see in Substack newsletters, so this is pretty interesting.
One of the first things Alex did after creating the newsletter was to put out a deep dive covering a lot of the information he's shared before.
It's really robust, weighing in at 158 pages in length. It's probably more than any one person would read, but it's conveying a lot of value in the sheer size of the thing.
These guys have this lead magnet featured all over the place.
They have it pinned to the top of the post archive on Substack.
Every YouTube video links to this same lead magnet
Every Tweet thread he writes ends with a link to it
He links to it in all of his LinkedIn posts
His featured links on LinkedIn, it's the first one
It's everywhere.
And the whole thing is pretty simple if you dig into it.
All of the information in the lead magnet is content he's shared before on Twitter and LinkedIn. Like, actually he pasted his threads into a PDF and then added color and nice design elements. Pretty cool!
He did it that way because people asked him to do that.
This also seems to be the whole reason they started the newsletter (because people asked for it), but it was smart of them to put all of Alex's tweets into a PDF and offer that as a "new" piece of content.
After each "chapter" or bit of information, they also have a callout that links to the books on Amazon, as well as the full subscription courses:
Everything comes full circle with this team.
4. Seed Your Launches
Alex and Sahn have been really dialed in on the way they launch new additions to their business.
They didn't just decide one day to start a new thing, they spent time strategizing and planning it out to make sure it was successful.
The Newsletter Launch
The Substack newsletter was officially launched in April 2022.
But by that time, Alex was closing in on 100k Linked followers and had around 13k Twitter followers.
And these people were very engaged.
He was posting super detailed information on Twitter and LinkedIn, so they knew he would offer even more great information in a longer-form newsletter.
Within 1 month they crossed over 26,300 subscribers. That's more than a lot of people get in the entirety of their creator journey.
Alex started doing something the team would continue with launch channels in the future: sharing the upcoming posts.
Seems simple, but when people are intrigued and looking forward to your content, they're going to want to sign up.
After that first month, they launched the full lead magnet, and growth started growing even more.
As a side, it also doesn't hurt that he had Gergely Orosz post this the first week their newsletter was live:
Gergely didn't have the over 200k Twitter followers he had now, but he was sitting around 55k at that time.
These are things you probably can't replicate, so don't expect 26k in your first month. 🙂
YouTube Channel Launch
The guys had a lot of eyeballs on a variety of content they were creating at this point. So when they launched their YouTube channel, they pushed out the announcement across all of their platforms.
Again, this is a list of upcoming videos people can get excited to see.
Here are the numbers on the other channels they had at this point:
LinkedIn: 200k followers
Twitter: 33k followers
Newsletter: 50k subscribers
If even 2% of those people had gone and subscribed to their YouTube channel, they would have had over 5k subscribers.
But instead, they had more than double that number just a few hours after launch.
What a wild launch story.
Paid Newsletter Launch
The guys at ByteByteGo launched the paid version of the newsletter in February of 2023, so it's quite recent.
They wrote a pretty lengthy statement explaining the "why" behind this.
In true Alex and Sahn fashion, they also gave people a schedule of what they could expect to get if they signed up.
This is super unique for a newsletter to do, and it just shows how deep into strategy these two are.
5. Giveaways & More Giveaways
Do you want to know how they made those launches even more successful?
You guessed it…giveaways.
2 weeks after they launched the YouTube channel, Alex hit 200k followers on LinkedIn.
He used that as an excuse to run a giveaway. Do you want to guess how you were entered to win?
You had to be subscribed to the YouTube channel.
So this post did okay, around 1.3k likes is pretty good, right?
Just look at what happened on LinkedIn:
Almost 13,000 reactions, and over 5500 comments.
Wow.
When they initially launched the newsletter, they had done the same thing.
They've done these so often I found them all and wanted to list them out here for you:
April 21, 2022 – around the time of the Newsletter launch

1,164 likes on Twitter
5,606 on LinkedIn

May 20, 2022

638 likes on Twitter
2,247 on LinkedIn

June 28, 2022 – around the time of the YouTube channel launch

1,313 likes on Twitter
12,963 on LinkedIn

November 24, 2022 – a Thanksgiving giveaway

1,953 likes on Twitter
3,801 on LinkedIn

March 15, 2023 – around the time of the Paid newsletter launch

2286 likes on Twitter
13,456 on LinkedIn
I think it's safe to say these worked really well. I wish I had some insider info into how these grew the YouTube channel and email list.
How You Can Replicate Some of This Success
It's rare to get 300k subscribers in less than 1 year, so don't expect it.
But there are some parts of Alex's growth strategy that you can replicate.
Reposting Between Twitter & LinkedIn
Alex is a living, breathing, case study that you do not know which platforms are going to take off and grow faster.
Alex said himself that there is growth to be had on multiple platforms, but it's also extremely hard work:
The key here is to not overwhelm yourself with too many options.
If you try managing Instagram, Twitter, LinkedIn, Facebook all at once, you're likely going to burn out and end up with NO growth.
So tread lightly here, especially in the beginning.
That said, I'm going to start sharing everything over on LinkedIn as well. I've been posting there a little, but that growth timeline convinced me to dig in deeper.
I'm going to go back through Justin Welsh's Content OS course this week and start implementing some of his strategies.
Content Operating System by Justin Welsh
Justin Welsh's exact system for creating a high-quality newsletter and 6-12 pieces of high-performance social media content each week.
Buy Now
We earn a commission if you make a purchase, at no additional cost to you.
What if I could have 14,000 email subscribers right now instead of 7,000 ????
I know it doesn't work the same for everyone, but it's definitely a kick in the butt to get moving on this.
Test Out Giveaways
While not all of us have written a book around the topic we cover, I'm sure we all have some kind of content we can give away for free.
Maybe it's a workshop you've run in the past that you haven't looked at for a while?
You can also give away physical products or books you didn't write, but that would be useful for your readers.
One word of caution I have is that you want to make sure the thing you're giving away is specifically interesting to someone in your ideal audience.
Giving away an Amazon gift card is something that 90% of the world would want. Those aren't your people.
But if you changed that to be a book or group of books that only your ideal audience would want (think System Design books), that could work well.
Post about it on social media and make sure you're asking people to
Offer a Lead Magnet for Email Subscribers
A lead magnet is essentially something you give away in return for an email address.
These can work quite well as long as the topic of the lead magnet is on par with the people you want on your email list.
Checklists
Templates
PDFs or eBooks
If you've written a lot about a topic on Twitter or LinkedIn, you can do exactly what Alex did and put them together into a PDF.
You can also combine these last two (lead magnets and giveaways) and get people to retweet your content in exchange for your lead magnet.
These posts are working really well on Twitter and LinkedIn when done well.