Compounding Quality is a newsletter covering finance and investing. It's grown to more than 100k subscribers in a matter of 14 months.
And I have no idea who writes the content.
It's the first "anonymous" newsletter I'm reverse engineering, but the story was too good to pass up.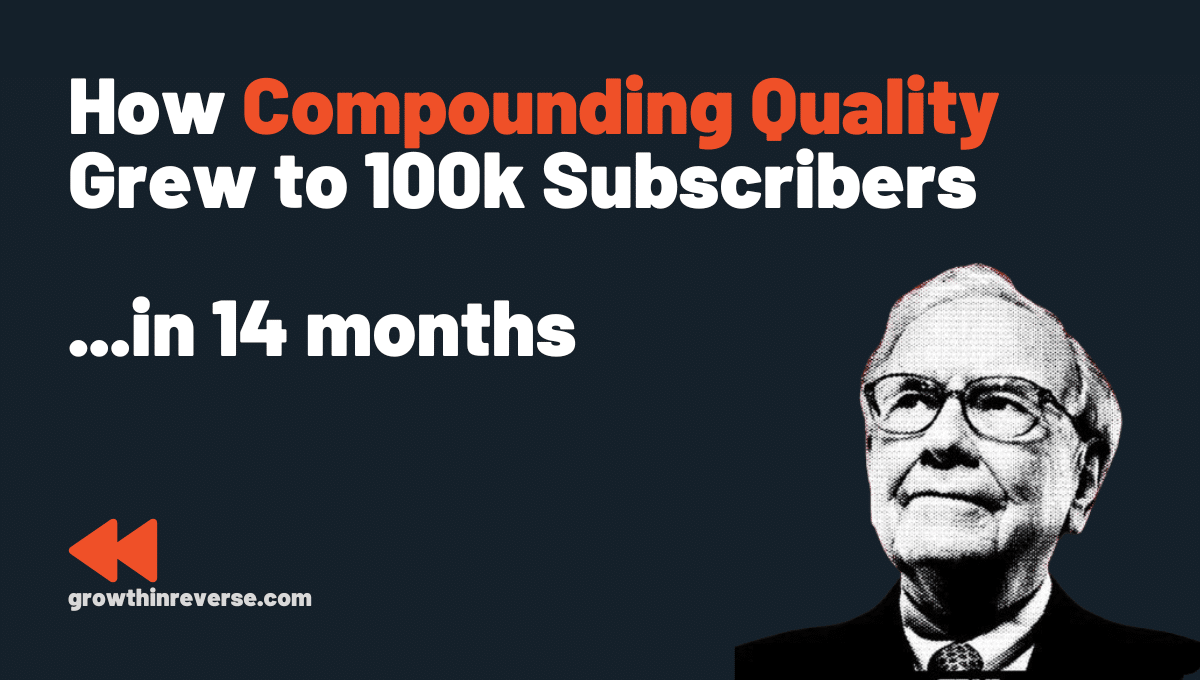 The logo of the newsletter is this image of Warren Buffett with a reddish background if you're wondering why I have his face on the image above.
"Compounding quality" is one of the main strategies and frameworks that Warren Buffet has used to become one of the wealthiest men in the world.
So this name and logo is a play on that, along with a good way to keep a consistent brand without showing your actual face.
I'll be referring to this anonymous account/person as CQ.
The Growth Timeline of Compounding Quality
This newsletter has grown really fast – to over 100k subscribers in just 14 months.
Most of the growth has come off the back of Twitter, but they are ramping up growth on LinkedIn now as well. And it's definitely helping.
The 4 Growth Levers
There are a number of growth levers that CQ has used to build this newsletter so quickly. Here are some of the ones I found interesting:
📱 1. Social growth. As an anonymous account, you need a discovery platform to amplify the growth of your content. And the social strategy of CQ is really, really good.
🔄 2. Content loops. CQ uses content loops to grow the whole ecosystem of his following, not just his newsletter. It's led to really great growth across multiple platforms.
♻️ 3. Repurposing content. If you've ever been afraid to repurpose your content, you need to check out this section.
📓 4. Create compilations. While most creators curate, CQ compiles information together to provide value to the audience. And it's brilliant.
An Anonymous Newsletter
Before we get started, there is a little context I want to give you.
Why would someone write an anonymous newsletter?
There are a few reasons I can think of. Having an anonymous newsletter allows this person to share more details than they probably would otherwise. It also makes it easier to eventually sell this personality and respective newsletter in the future.
But being anonymous makes it a little challenging to create a "personality" and face of the brand. But CQ has done a great job with this.
They have a LinkedIn account but it's quite clear this is a fake person named "Chris Quinn."
The profile picture is an AI-generated one, and it's a very surface-level account in terms of education and interests.
Pretty funny that both the name of the newsletter and this guy's name can be abbreviated to "CQ."
So why go through the exercise of creating a fake personality on LinkedIn? I'll get into that below.
1. Social Growth 📱
The growth of this newsletter was initially tied to one main discovery platform: Twitter.
CQ grew to over 150k Twitter followers by May 2023 before seriously trying to make a go at LinkedIn.
They had been posting on LinkedIn since the beginning, but the account wasn't getting much traction until recently.
And the last few months it's exploded from a few thousand followers to over 35k today.
Here's a side-by-side of some of the old content, vs. what they're doing now.
Their strategy has also gotten a lot better in the last few months.
Charts, graphs, and visuals do extremely well on LinkedIn, instead of just reposting Tweets and linking to another account's content.
I think in the beginning they were trying to siphon people to the Compounding Quality brand account, but have decided to use this "person's" account instead.
LinkedIn is all about connecting with people, so it can be a little challenging to grow branded accounts. Although if you've seen Daniel Murray's account, you could probably argue otherwise.
You can see the vast difference these changes have made in terms of engagement on their posts.
2. Content Loops 🔄
The Compounding Quality newsletter gets sent out twice a week, on Tuesdays and Thursdays.
On Tuesdays, he sends out an issue "teaching you 5 things about the stock market in less than 5 minutes."
On Thursdays, he sends a "deep dive" or longer form email about a specific person or category.
The Tuesday email is where the real growth loops happen because each week at least 1 of the 5 bullet points is content published by Compounding Quality on Twitter or LinkedIn.
We've seen this in the past with Harry Dry from Marketing Examples, who is really good at content loops like this.
Instead of just trying to get people to your newsletter and keeping them there, think of it like an ecosystem. Your newsletter can send them back to social media, and amplify your audiences on both.
The added benefit of this is that many of the newsletter subscribers CQ got in the past came from Twitter and might not be familiar with the brand on LinkedIn.
By promoting a piece of content from LinkedIn, they can add more followers there, growing the whole ecosystem instead of just one piece at a time.
3. Repurposing Content ♻️
This is a growth lever we've seen come up again and again with top creators. Instead of trying to create something new all the time, think about how you can repurpose content that's done well in the past.
CQ has been repurposing content successfully since the beginning. Here's one example of a post about the 10 greatest acquisitions of all time.
They reshared the same exact post 5 times and then added a more robust caption to the image last week.
There are numerous examples of this on the CQ account, and any Twitter creator with more than 50k followers to be honest. Repurposing content is not a bad thing.
In most cases, your best posts were created at the beginning of your journey, when you had only 1% of the followers you have now. And a fraction of that 1% saw that content the first time.
Repurposing your content helps you reshare that to a broader audience and save yourself the headache of creating brand new content every day.
4. Create Compilations 📓
Have you ever heard of people boasting that they've read all of Warren Buffett's shareholder letters? Or read the Almanac of Naval Ravikant. As a creator, if you haven't heard of that book, you should be concerned.
Warren is a brilliant investor and one of the richest people in the world. Naval is one of the most prolific thinkers on the internet.
Why wouldn't you want to learn everything you could from them?
People love going deep into a specific person's ideas.
CQ does something super brilliant based on this concept: he compiles these ideas and letters for his readers.
Here's a recent example:
Michael Mauboussin is a big name in the investment space. CQ put together all of his public writings and compiled a huge document with all of them.
Then he posts on Twitter/LinkedIn about it as a giveaway.
To get the full document, you need to enter your email address and get it sent to you.
Because he is using Substack, you can't do a "true" lead magnet, but he uses a little trick to get around this.
They link to a Mailchimp Form instead of driving people to Substack. Then once a day at 5:30 am, they add in all of the emails from the day before into Substack.
It's not the best user experience because people don't get welcome emails right away and they have to wait to get the freebie, but it works.
CQ has done this compilation strategy with tons of other people's content too.
It's so simple, but it's something I haven't seen a lot of other creators do.
While you're not the one creating the content, you are creating value by compiling all of this into one place.
Turning Them Into Lead Magnets
In the beginning, CQ was just sharing links to the page where you could see these, and maybe sign up for the email list. While it was likely driving a good bit of traffic, I'd imagine these weren't bringing in a lot of signups.
Around April/May of this year, CQ started using these as lead magnets, sending people to a dedicated form to sign up for the email list instead of the page to view the content.
This is when the growth really started to increase.
If you look back at the growth timeline, you can see this was when the email list started to grow faster.
Now, coupled with the additional LinkedIn traffic, the newsletter is growing quite fast.
How You Can Replicate Some of CQ's Growth Strategies 🗺️
We don't all want to have anonymous newsletters, and the world would be a very strange place if we did.
But we can still use some of these strategies as they are easy to replicate for the average newsletter creator.
A. Don't Be Afraid to Repurpose
If you're still questioning whether or not you should be repurposing some of your content, think again.
CQ has been doing this consistently, almost on a schedule since the beginning.
As your audience grows, less and less of those people who saw your first post will see it the second time.
Here is the follower counts of the CQ Twitter profile at each of these posts:
Each time, the account is growing quickly, so only a percentage of the followers even saw that first one.
If you were looking for permission to repurpose some content on social, this is it.
B. Use Content Loops
It can be tempting to avoid sending people back to social media platforms once they're on your email list.
In the past, this was a big "no-no." But these days, if you're not doing this I think you're missing an opportunity to grow your newsletter more quickly.
Let's walk through an example together:
Say you have 5,000 people who open your emails.
You share a piece of social media content you've created in that email. So you're sending a % of those people back to engage with that content on social.
The heightened engagement allows more people to find that social content.
A percentage of those people end up becoming newsletter subscribers.
And you're growth loop/flywheel continues to spin faster and faster.
More social followers = more newsletter subscribers = more social followers.
We can talk bad about social media all day, but it serves a big business purpose if you're looking to speed up growth.
C. Don't Curate, Compile
Instead of just being a curator of links and stories, why not compile them into a massive document for people to read?
This strategy can easily be replicated in other industries. Here are some examples I can think of to use this with:
Business leaders – unorthodox strategies they use
Big-name lawyers – top closing arguments
Inventors – number of failed patents before they reached a successful one
Writers – the works that don't get much attention
Runners – Top quotes or ways they get through "the pain cave"
And it can also be something that's done as a one-off piece of content. The top 50 quotes from XYZ type of people.
Use this as a way to break out of the norm of what you're used to creating.
If you liked this deep dive, you might like the deep dive I did on Dan Ni who created the TLDR newsletter, where he puts together a curated email newsletter that now has over 1 million subscribers.