If you've spent any amount of time on LinkedIn, you probably know his name.
That's because he has over 1.3 million followers on that platform alone.
And has been able to translate that into over 150k newsletter subscribers.
Austin Belcak writes the Cultivated Culture newsletter and blog, where he shares tips and advice people can use to land their dream job.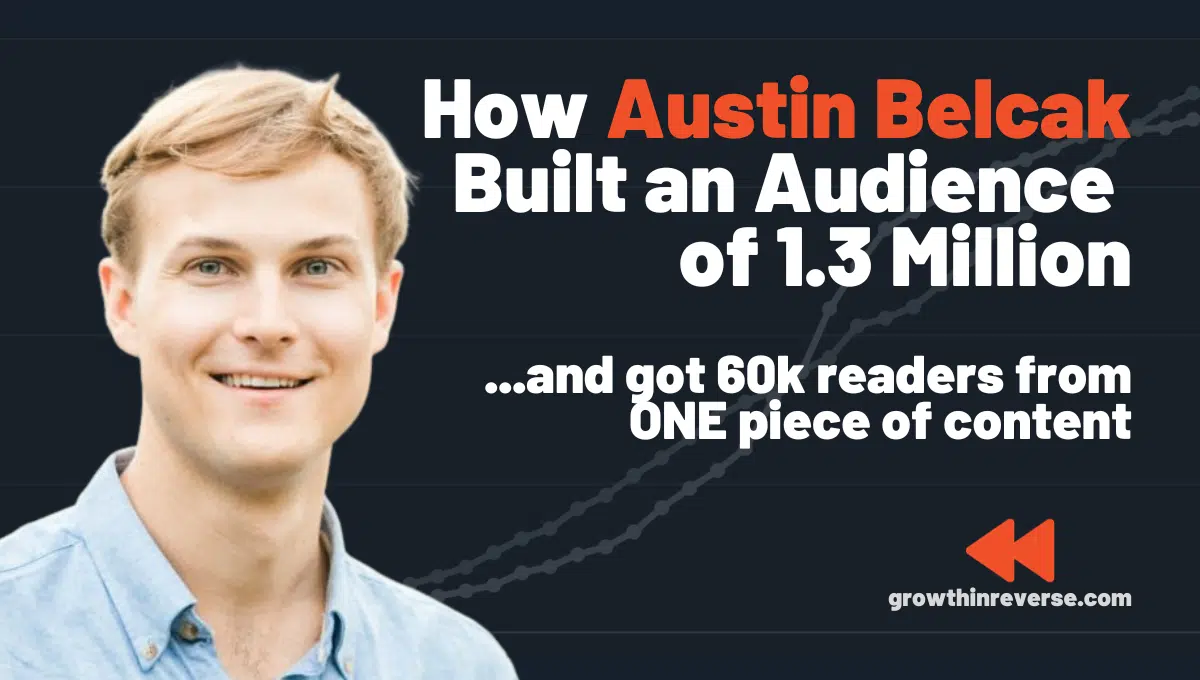 Austin isn't someone who just created this last year and has grown super fast.
He's been working at building a sustainable business over time, which is honestly refreshing in the current climate.
The Growth Timeline
Austin started the blog in early 2016, but it wasn't until 2019 that he started posting on LinkedIn.
Because his content is so relevant to the LinkedIn audience, he does extremely well there.
Note: there has been a dip in his followers over the last year or so, but it seems like LinkedIn has been diligently removing inactive and "bot" accounts. I'm going to guess that's what happened here.
Let's dig into how he's built his business, newsletter, and LinkedIn following and built extremely valuable relationships along the way.
But first, let's take a look at how he makes money.
How Austin Makes Money
Austin has a multi-pronged approach to driving revenue for the business. Here are some of the ways he's been able to bring in some cash.
Career Coaching
Austin started doing coaching with some of his clients in the beginning to bring in extra money. It wasn't his favorite thing, which is probably one of the reasons he's now hired other people to run those calls. 🙂
In the early days, he charged around $50 per hour for a call, and now those calls are $500+ per hour.
LinkedIn Coaching
Because he's built up a huge audience on LinkedIn, he also helps people build their own audience and network over there.
Those calls run $1,497 for an hour of Austin's time. If you purchase his LinkedIn course, you can book a call for $997.
Digital Courses
Austin sells a number of courses through Cultivated Culture, ranging from interview prep, to LinkedIn skills, and more.
The prices range from $37 to $647.
The kind of reminds me how Dan Koe has pricing tiers for his courses to kind of move pepole up the ladder.
The prices start low (at $37) and once they know they can trust you, they might dive into a more expensive option.
Premium Tools
Austin has also created some free tools to help people with resumes and their job search. But you only get 10 credits per month to use those tools.
You can upgrade to get unlimited access for $3.97 per week, $9.97 per month, or $26 for an entire quarter.
I love this approach because it's recurring and has a low barrier to entry.
The Growth Levers
Austin has been doing this a long time, so there are a ton of ways to approach this, but here are some of the more impactful strategies I've found in my research:
📄 Valuable, unique content. From free tools to creating the most comprehensive pieces of content, this is not one to skip over.
🚀 60k website visitors from one piece of content. Austin was able to get over 60k readers to his website after creating ONE piece of content. I share the exact strategy he used.
🤝 Building relationships. He's created a methodical way of building valuable relationships, and it's turned into huge media opportunities.
🧪 Experimentation and Data. Austin has built experimentation into every aspect of his life and business. And he tracks the data to see what's working and what to cut.
🌱 Starting small. It can be easy to get overwhelmed as a creator, so Austin shares how he thinks about new projects.
🔵 LinkedIn. With over 1.3 million followers, this is clearly been a big part of his growth strategy. He uses templates and processes to continuously put out great content.
1. Valuable, Unique Content 📄
While this strategy might sound a little boring to start with, it plays into every other growth lever Austin uses, so pay attention!
Instead of just creating content and hoping it's alright, Austin makes sure he is providing serious amounts of value in everything he creates.
Before creating anything, he goes out into the world and sees what other people have created around a specific topic. Then, he aims to make his content far superior in every way he can.
I aim to make every post I write the most comprehensive post on the topic.

Austin Belcak via Starter Story
Creating great content isn't just about offering value, Austin's content stands out because he is:
Adding contrarian perspectives
Sharing unique experiences
Creating free tools to help readers
Let's dig into each one of these so you can see how this can be replicated in your own content.
Contrarian Perspectives
From the beginning, Austin has taken the old "you need to just play the numbers game and submit more applications" approach to job hunting and flipped it on its head.
His entire approach is about getting a job without online applications.
This kind of content stands out in the market because virtually no one else is talking about this.
Another example of this is Alex Hormozi's approach where he shares that you can lose weight while eating dessert every night.
If you can't see the embedded video above, here is the link to it.
It stands out, and makes people think, "Wow, tell me more!" You can't help but listen to them because their take is so refreshing and different from the "normal" content you see every day.
Sharing Unique Experiences
Adding on to the contrarianness of it all, Austin is sharing exactly how he landed a high-paying tech job without submitting a ton of online applications.
It's his real-world experience. Alex's content is the same, he's been able to maintain a six-pack for years while eating dessert every night.
The other benefit to this type of content is that no one can steal it from you.
You have the results. You got those results through this contrarian method. It makes for a super compelling story.
Because this type of content is so different, you'll naturally get more people sharing it with friends and people they know are struggling with that exact thing.
Creating Free Tools
Austin isn't just sharing his take on how to do this, he has gone ahead and created free tools you can use as well.
I teased this out a little when talking about how he makes money, but this strategy is just brilliant.
These free tools are another highly sharable resource that people can link to from their websites, or share in an email to a friend.
His resume builder alone has over 249 backlinks from other websites, including The Muse, Yahoo Finance, and plenty of University web pages.
If you're following along from the "How He Makes Money" section, you'll know that these free tools are a gateway into some of his paid offerings.
People can sign up for free and get 10 credits to use these tools. After that, you either have to wait for the 30-day time period to restart, or pay to get unlimited credits.
The beauty of this? To use the free tools, you have to enter your email, thus growing the newsletter audience at the same time.
Austin takes this a step further too.
To get more credits without paying, you can refer friends to the portal (i.e. getting even more email subscribers) and earn more credits that way. This is like a backdoor approach to a newsletter referral program.
While building these free tools is a little cumbersome for some smaller creators, you can hire help from places like UpWork and other sites.
And you can also create tools that are far less robust in the beginning, like Notion templates, or an Airtable of data.
2. 60k Website Visitors From 1 Piece of Content 🚀
After Austin published his first piece of content, he was able to get over 60,000 visitors to that article in the first 60 days.
That's an insane amount of traffic for a new blog.
His whole website started after Austin got a job at Microsoft. He kept getting asked how in the world he got a job at Microsoft given his background.
After all, he graduated with a 2.58 GPA and a degree in Biology yet somehow landed a job at a top tech company doing marketing.
He decided to write an article he could share with friends and people looking for jobs instead of sharing his process with each person separately.
Austin shared everything he had learned about getting a job and what he had done to land his dream job (i.e. sharing his own experience).
This piece ended up being 5,600 words long with tons of great examples and tips to help others get their dream jobs.
But it also took him around 2 months to write.
Yet he didn't just write the most comprehensive piece on the topic and move on.
He crafted a really intentional strategy for promoting it as well. After all, he spent 2 months on it, might as well try and share it around even more.
The Promotion Strategy
Austin's promotion strategy for that first piece of content looked something like this:
Find top resources in the job hunting and career space
Share those within the article
Reach out to the people who created those resources once the article goes live
A percentage of them will share it
Watch the traffic roll in
Now, of course, that's a super simplified approach to what he actually did, but it's pretty accurate.
Throughout the article, he linked to resources from well-known people in the space. I've included a quick example here:
These would go on to be the people he reached out to once the article was finished.
I counted over 35 links to other websites, and that doesn't even include some of the resources he mentioned without linking to them.
Now, he wasn't just linking out to these people to get them to hopefully share it, the links are well-placed and make sense within the article.
The Outreach
Once the article was published, he went about reaching out to the people he linked to and sent them emails like this:
It's simple, to the point, and positioned as a "thanks" vs "share my thing."
Note: He had someone from UpWork help him with the promotion side of things.
Some of the people he reached out to share the article around. This strategy helped him get over 60k people to his website in the first month.
And that traffic resulted in 600-700 email subscribers.
While that conversion rate isn't great, he's since made an effort to really optimize the email opt-in forms to drive more subscribers.
If you plan to use this strategy, make sure you're actually creating something valuable. You're not going to have similar results if the piece of content isn't good – plus, the internet doesn't need any more garbage.
3. Building Relationships 🤝
Austin is a huge proponent of building and nurturing relationships, no matter what field you're in.
Relationships & Banks
Austin looks at relationship building like saving money: you have to make deposits into the bank to be able to take money out.
Relationships are no different.
You need to put time and work into making deposits into that account, and then eventually you can withdraw from the relationship bank.
Now, this might sound super transactional, but the analogy is simply to make a strong point.
Austin works really hard at building relationships and says it's one of the most fun parts about building an audience and business.
Relationships aren't built from one Zoom call – they take time and consistency to create something great.
Research & Providing Value
Austin doesn't just reach out to creators cold, hoping to get their attention.
He teaches that you need to do some research so you can provide value for the person.
Most people don't do this, so it makes you stand out from the crowd.
Some ways he says you can provide value:
Help the other person achieve a goal
Leave thoughtful replies on their content
Show that you're paying attention
Recognize the person for something great they've done
Bring positive energy
Share new information
Find a shared topic of interest
All of those things require some level of research into what that person is working on, what they've achieved in the past, and how you might be able to help them.
A Spicy Take 🌶️
I want to share an example of how one guy combined a few of these into one post.
For context, Austin is a big fan of hot sauce.
He put on a bonus training for his audience and shared this story of how one guy really stood out to him.
He shared this love of hot sauce in a post on his site about writing a resume.
One of his followers saw this, and used it as a way to stand out in his feed:
This guy wrote a thoughtful comment on Austin's LinkedIn post, and then proceeded to ask Austin for hot sauce recipes at the end of the comment.
What a way to stand out in the sea of other comments Austin gets on his posts!
The fact that Austin remembered this so clearly and took screenshots to share with other people shows just how impactful this was for him.
And you can imagine that this guy got his connection request approved and Austin went above and beyond to help this reader because he spent time adding value.
He literally teed that up in the article, and this guy hit it out of the ballpark.
4. Experimentation & Data 🧪
Austin might have initially thought his Biology degree was useless, but the amount of experimentation he's done makes me think it might have paid off in some ways.
Austin uses data to determine what's working and what's not working with practically everything he does.
Getting a Job
Austin has been a data-driven guy from the jump. Even when he was sending in his resume to find a job, he was tracking the performance.
He would A/B test different versions of his resume, different cover letters, etc., and keep track of which ones got responses, or which ones didn't.
LinkedIn Growth
When he got started on LinkedIn, Austin told Jay that he would go back through all of his posts and see what worked and why every single month.
He kept track of:
Each post
The hook for each one
Interactions (likes, shares, etc.)
Character count
Type of post (personal story, contrarian take, etc.)
He would score each of these and then determine why each post got good results, or why it flopped.
Going through this data every month helps him see trends within his posts that he can use going forward.
Email Optin Forms
Austin has also tested numerous amount of lead magnets throughout his time running Cultivated Culture.
The homepage lead magnet is a great example:
Now he's giving away his 5 strategies for landing your dream job. But in March 2019, he was promoting his job referral toolkit:
Apparently, that headline works because it's still the same 4 years later, but he did change up the offer.
Context-Specific Lead Magnets
He also has relevant optin forms on different pages across the website. If the article you're reading is about writing a great LinkedIn headline, you'll see a spot for his free "LinkedIn Headline Analyzer" tool:
But if the post is about resumes, he might include a form around that topic.
Because the readers are at different points in their journey, it makes sense to include a few different optin forms to be most relevant to them at that time.
Spin-Wheel Email Capture
This optin form is really interesting and something you typically see on retail and e-commerce websites.
Essentially, you can spin the wheel and get free premium content from Austin. In order to spin the wheel, you have to enter your name and email address.
I played and ended up getting a free job toolkit:
Who doesn't want to spin a wheel and get free stuff? This is an interesting way to get more email subscribers, and I'd be curious how well this performs.
5. Start Small
Today, Austin has over 1.3 million followers on LinkedIn.
But it took him a while to get the hang of it.
In fact, he told Jay Clouse that he had tried getting started on LinkedIn 3 or 4 times before it actually stuck.
So how did he finally get to be so consistent and build a following there?
He set input goals instead of focusing on results-based goals. Let me explain.
He sat down every day for a month and would write content he could post there. He didn't actually hit publish anything until he had 30-40 in the bank ready to go.
Having this backlog of 30+ pieces of content allowed him to remove the pressure once he did start posting on LinkedIn.
And that removal of pressure was what finally helped him be consistent with daily publishing on LinkedIn.
Since he started writing daily, he hasn't missed a day since.
The best advice I can give on launching is to keep it simple and just get started. Don't get caught up in having the best design, fluffy stuff like business cards or the Bentley version of the software that's out there.

Austin Belcak via Starter Story
Don't Focus on the Big Picture
"People have a tendency to think about the whole picture all at once, and they get overwhelmed and they think 'I could never have time to do that.'

The best way to get started is to focus on one thing."

Austin Belcak
It's really easy to get overwhelmed when you see a bunch of other creators and entrepreneurs making millions and launching new YouTube channel or podcasts.
But, as Austin says, "The key really is to start small."
He didn't start his journey doing all of the things he does now:
Hosting a podcast
Writing a blog
Creating courses
Coaching clients
Posting on LinkedIn every day
Doing other podcast interviews, etc.
He simply started by writing one blog post every 2 weeks, and just took it from there.
And when he did try to get going with LinkedIn, he failed at being consistent multiple times. So don't think you need to do everything you dream of doing at the beginning.
6. LinkedIn Content
Of course, it would be silly for me to write about one of the most well-known people on LinkedIn and not share some of how he grows his platform there.
While a lot of his growth has come down to what we've talked about already (consistency, experimentation, using data to inform your decisions, etc.) there are some other ways you can improve your LinkedIn posts.
Turn Long-Form Into Short-Form Content
His blog posts are typically over a thousand words long. While this wasn't easy in the beginning, he's found a great way to take some of those posts and turn them into bite-sized actionable tips he can share on LinkedIn
Leverage Relationships
In the beginning of his LinkedIn journey, he had 10-15 people he would reach out to and ask to promote his posts.
Those people would comment on his posts and vice versa.
Austin says this helped him "build traction with the algorithm and get a lot more views."
Content Templates
Austin has a few "go-to" templates he uses for his content.
Personal story
How to posts/strategy
Testimonial
Contrarian take
He takes one of these templates and creates a great hook for the post:
His ideal reader is going to be interested in this, it's exactly what he helps people with.
And then he goes on to finish the post out:
This post also had a video attached, so while the rest of the written part wasn't super lengthy, that hook is really compelling.
His templates have changed over time, but if you can find ways to incorporate repeatable templates into your content, you can easily create content on social media.
This is really similar to how Justin Welsh uses templates in his content creation as well. It's probably no surprise that Justin and Austin are good friends. 🙂
How You Can Replicate Austin's Success
Austin has been writing and creating content since 2016, so he has sustainability on his side. But there are a number of ways you can still use some of his frameworks and ideas to grow an audience.
A. Use Austin's Promotional Strategy
While this can end up being a ton of work, if you're able to convert people onto your email list, it can work quite well.
Creating content once and never promoting it again is a losing strategy, and also one that I need to stop doing 🙂
Austin was able to take his piece of content and promote it to a bunch of influencers in the space, some of whom ended up sharing the post.
You can do this by:
Creating a list of people who create content similar to what you're going to build
Link to their articles within your piece of content
Reach out after you publish and let them know
Thank them if they do share
This strategy was something Austin did back in 2016, so it's not going to be as easy to get people to share.
Because of this, it's probably wise to build even a lukewarm relationship with them first via replying to their social posts or supporting their work elsewhere. If you just reach out for the first time and ask them the share, you're likely going to get a low number of responses.
But creating a small relationship first and then asking will show them you're not just out to get a share and never talk to them again.
B. Start Small
When you're building and growing your own platform, it can be easy to get sucked into the comparison trap of watching your peers build these huge followings while launching new platforms.
When you're just getting started, focus on one area of your business and master that before moving on.
Instead of trying to launch a newsletter, podcast, and YouTube channel all at the same time. Try doing one of those for 6 months, build that up, and learn what you need to before adding more to your plate.
Austin started off with just a blog at the beginning. He didn't even start posting consistently on LinkedIn until his 3rd year into this.
Be patient. Master one platform at a time.
C. Build a Backlog of Content
Okay, so we're starting small and doing one thing at a time. But before we do add that extra thing to our plates, it might be worthwhile to take a page from Austin's book and create a backlog.
Before he started on LinkedIn (for real), he had 30-40 posts ready to go at any given time.
He spent weeks creating those, but they allowed him to remove the pressure of having to come up with a new great idea every morning when he sat down to write.
The best part about this is if you create that backlog, you might go back and think those ideas aren't as good as you thought they were at the time. But even just the act of creating them helps you get "reps" in and improve your writing.